Centralised Coolant Filtration System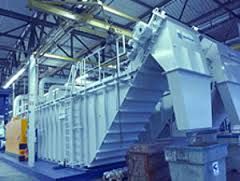 | | |
| --- | --- |
| Business Type | Manufacturer, Exporter, Supplier, Retailer, Wholesaler |
Preferred Buyer From
| | |
| --- | --- |
| Location | Anywhere in India |
We are one of the leading Manufacturers, Exporters & Suppliers of exceptional Centralized Coolant Filtration System. The Coolant Filtration System is sternly fabricated in the high-tech manufacturing, designing unit that is equipped with the latest machines and technology. Staffed with a team of professionals; they keep a close coordination and check on the production stages. We make sure that the range is as per the set industrial norms.

More about Centralised Coolant Filtration System : A Centralized Filtration System is basically a Common Filtration System for a group of machines. Hence a centralised filtration can cater to a small group of machines or the complete shop. It is generally a combination of various Coolant Filtration System products and accessories. A Centralized Filtration System is the most effective and efficient ideology in Coolant Filtration System and Cutting Oil Filtration System. A Centralized Filtration System has huge benefits over a Individual Filtration System. Below is the list of all the reasons why you should opt for a Centralized Filtration System in comparison to a stand alone filtration system.
Saving in Electrical power / Connected Load :
A stand alone filtration system has separate pumps for bed flushing , tool flushing , spindle cooling etc. Hence the connected load for each machine is very high. All these requirements can be catered using a single pressure fluid line :
A Centralized Filtration System has common pumps which pressurize a grid of piping which runs in your shop. Tapping is taken from the same pipe line for various requirements. This reduces the number of pumps required.
In a Centralized Filtration System a pump with larger flow capacity is used. These pumps have higher efficiency compared to smaller capacity pumps used in stand alone system. Hence the power required to pump the total flow is much lower as compared to the sum total of power required of stand alone tanks.
A total power reduction of 25% can be achieved.
Additional facilities like a VFD ( variable frequency drive ) can also be easily incorporated to reduce the power consumption even further.

Increase in Coolant life :
A stand alone system has to kept near the machine. Hence it occupies a large shop floor area. In order to reduce the area some aspects of filtration are typically compromised.
Smaller size means lesser through put time ( allowable time ) for filtration. The fluid has to pass through the filter faster. This increases the flow velocity which drastically reduces the filtration efficiency.
Due to small size multiple stages of filtration is not possible which puts load on the finer filter reducing its efficiency.
As the finer particles are not filtered properly, they start accumulating in the system. After a certain threshold level an operator is forced the coolant / cutting oil as the contamination starts affecting the surface of the job. Traditional it has been observed that a stand alone has to be cleaned after every 3-6 months.
As the centralised system can be kept away and also outside the shop floor area, the size can be made suitable to provide sufficient through put time. Also a multi stage filtration and separation is provided. The increases the bath life drastically to 45-60 months.

Increase utilisation of shop floor area :
A stand alone system has to be placed near the machine and consumes valuable shop floor area. It takes almost the same space or more than the machine tool.
This area if saved can be used for direct production activities increasing the productivity.
Space also has to be provided for easy access and maintenance of these stand alone filtration systems.
A Centralized Filtration System can be placed in non-productive area like utility hangers or even outside the shop. Hence you not only save on the foot print area of the stand alone filtration system but also the area kept vacant.
Through our various projects we have seen a 25% saving in shop floor utilisation. This means you can increase your production by 25% in the same available shop floor area.

Reduction in manpower cost :
Huge manpower is required for the cleaning and maintenance of individual stand alone system. As each system has its multiple pumps , conveyors , filter units etc.
Parameters like coolant concentration , pressure , temperature , filter media replacement has to done on each stand alone system
Comparatively such activities are needed to be done at a single point of the Centralized Filtration System. Typically we have seen a 80% reduction in the manpower associated in these activities.
Read More...
Looking for "
Centralised Coolant Filtration System

" ?
Piece